I've said it before, and I'll say it again: making cocktails is not my forte. But, luckily for me, despite the continued ban on eating in, there are still plenty of options for me to get my cocktail fix with several bars, restaurants and independent businesses offering cocktails to go.
So, without further ado, let's take a look at what the capital has to offer…
mona
First, we have a line of cocktails from Mona which offer classics like Negroni (RMB 70) or a whole range of flavored Gin and Tonics (RMB 65) as well as more unique concoctions. As a huge tequila fan, my personal favorite is The Sea (RMB 65) which combines tequila with fresh grapefruit and lemon juice to create a refreshing and tangy cocktail perfect for hot weather.
To order, scan the QR code in the poster below.
---
Apothecary CBD
For classic, high-quality cocktails, there's perhaps no better place than the CBD Apothecary Cocktail and Dessert Bar. This is especially true for all martini fans, with a wide variety of martinis available such as a Dirty Martini (RMB 168) or a Consomme Martini (RMB 168) or even Martini Sets of three different types (RMB 738). Their bottled cocktails have been specially designed to be enjoyed at home taking into account a number of factors.
To order, search for their mini program 酒术Jiǔ shù CBD or add their official WeChat account (apocdb) to be added to their WeChat group where they announce quantities and promotions every day around 3:30 p.m.
---
Q-Mex
Q Mex is currently offering amazing half price deals on their cocktails. They sell bottles of Roc Craft cocktails for 25 RMB (instead of 45 RMB), you can choose between Margarita, Mojito or Long Island Iced Tea. Along with that, they also offer their Classic Frozen Margarita for 25 RMB (instead of 50 RMB), this melty drink is a surefire way to beat the summer heat.
These special discounts are available for both delivery on Meituan Waimai, Eleme, JSS and Sherpas or you can pick up at any of the Q Mex branches.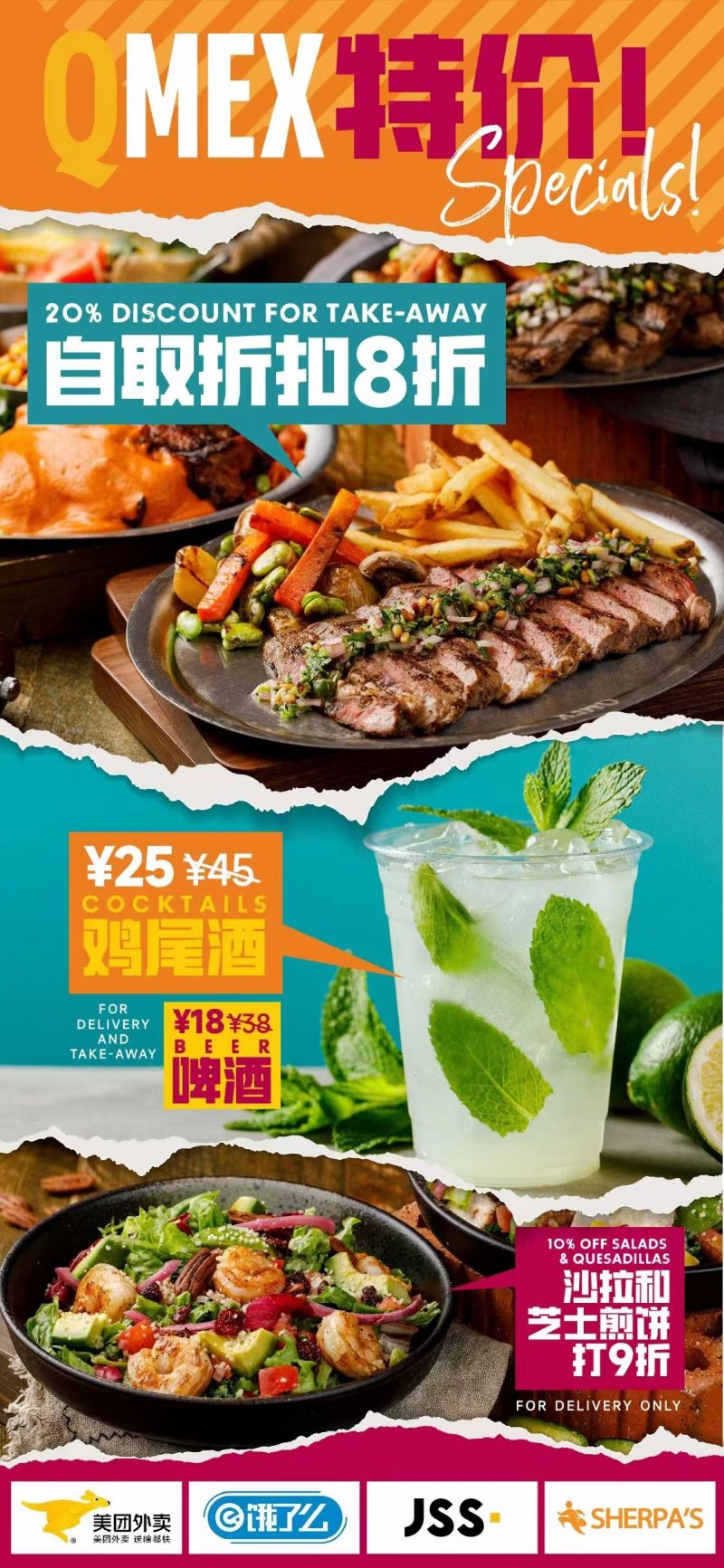 ---
nugget
nugget café now also offers cocktails to go through their Weidian page. They have two pre-mixed bottled cocktails available: Soaked, a silver tequila-based cocktail with lime juice, blue curacao, orange blossom water and pink salt, and Fine Valley Pass, which combines London dry gin, basil, lime juice and cucumber bitters.
To order, simply scan the QR code in the poster below or you can pick one up in person.
---
Bourges
For those looking for classic cocktails with a twist, look no further than Burges. They have a number of their signature cocktails available like a Plum Negroni (RMB 48) or Wild Apple (RMB 48).
Burges are available to order on Meituan Waimai and JSS or you can pick them up in person.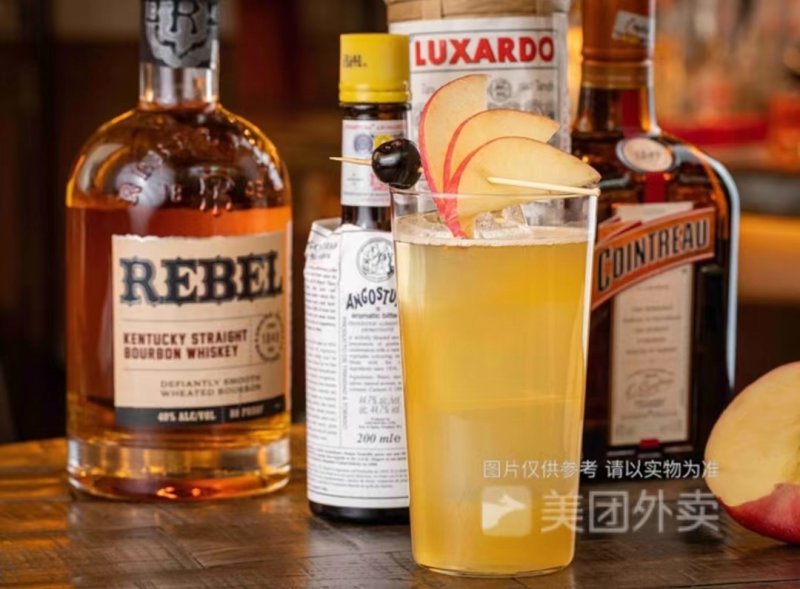 ---
Bistro 108
If you want a more indulgent night's sleep, Bistro 108 offers Aperol Spritz kits as part of their aperitif Case. The kits include Aperol, two bottles of sparkling wine, soda water and orange slices. Along with this, there are a variety of aperitif items such as pâté, crudités, cheese and charcuterie are included.
the aperitif The kit costs 788 RMB, scan the QR code in the poster below to order.
---
Sips by Sal
Sips by Sal offers a number of different cocktails, many of which have a distinctly Chinese twist. Take for example their Tang Hu Lu Sour which combines hawthorn infused bourbon with hawthorn juice and lemon juice or their Nai Cha which sees black tea infused vodka mixed with coconut milk and syrup. of brown sugar, definitely a winner with all milk tea fans.
To order, scan the QR code in the poster below.
---
Nation Slider
Slider Nation offers two DIY cocktail kits: a Gin and Tonic kit (RMB 90) and a Bloody Mary kit (RMB 99). Along with that they also have frozen Jack and Coke (RMB 55) available which considering the current high temperatures seems like a pretty good shout out to me.
Slider Nation is available to order on: Meituan Waimai, JSS, Sherpas and Eleme.
---
pebble yard
For those who crave classic Mexican cocktails, Pebbles Courtyard is for you. They offer DIY Mezcal and Ginger kits (RMB 108) and also now have their full menu of agave cocktails available to order, my personal recommendation is their La Paloma (RMB 65). But, as if that weren't enough, they also have a BOGOF deal on select pre-mixed cocktails every day.
Scan the QR code in the poster below to order.
---
night nine
If one cocktail isn't enough for you, Night Nine has the perfect solution with its 1000ml bottles of pre-mixed cocktails. They have eight different cocktails on their menu, priced at 130 RMB per 1000ml for pickup or 150 RMB per 1000ml for delivery.
Scan the QR code in the poster below to order.
---
The hutong
Each week, The Hutong offers special cocktail sets with three different cocktails available, which change weekly. This week, the cocktails available are: Amaretto Sour, Passion Fruit Mojito and Harvest Festival. Packages available are 258 RMB for one 500ml bottle or 588 RMB for three 500ml bottles (each 500ml bottle makes five cocktails).
Scan the QR code in the poster below to order.
---
Local
The Local offers more sophisticated cocktails with their prosecco mixing kits (RMB 330), which include a bottle of prosecco and a selection of berries and juices to mix so you can create your own mimosa, bellini or whatever. prosecco. cocktail of your choice.
To order, search "LocalPub" on WeChat to find their official account and order through their delivery program. They are also available on JSS, but at press time the Prosecco Blending Kit can only be ordered via WeChat.
READ: Delivery offers in Beijing: West [Updated]
Images: Courtesy of Locations, Unsplash Kobby Mendez